Integrilla replaces the SMS aggregator and allows you to send messages and auto-notifications to WhatsApp and/or Telegram from Altegio.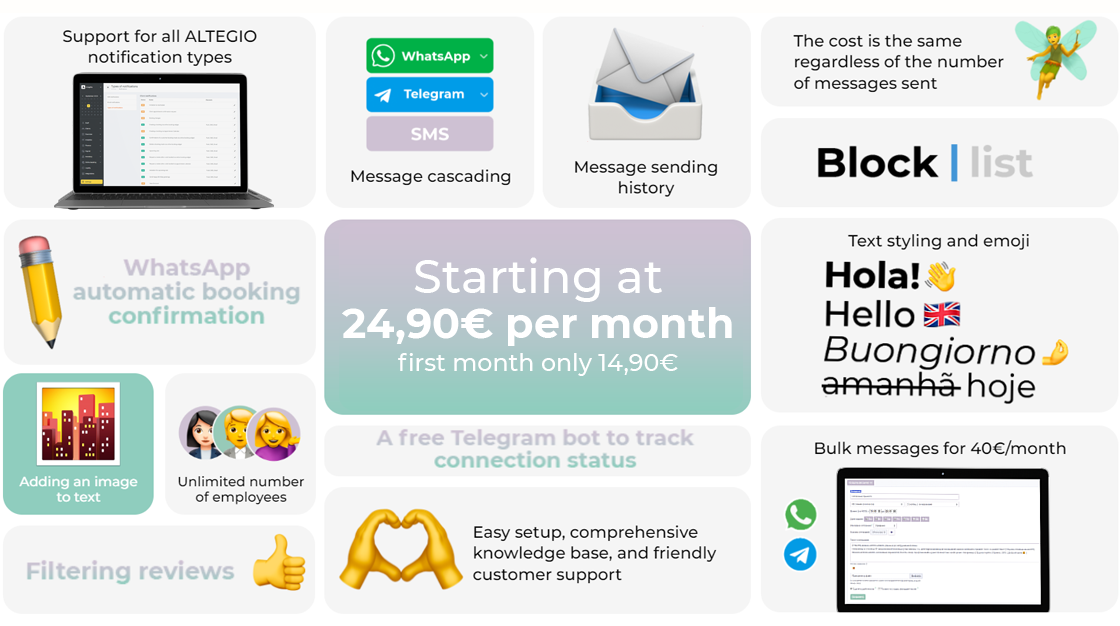 Capabilities
- Support for all types of notifications available in Altegio;
- Cascade message delivery through the combination of Telegram - WhatsApp - SMS;
- Text formatting, emoji support, and adding images to the text;
- Messenger marketing (mass mailings) to the client base (charged separately);
- Free Telegram bot for monitoring the connection status;
- Automatic appointment confirmation with characters in WhatsApp;
- Filtering of positive reviews
Connection
⚡Setting up will take no more than 5 minutes.
Cost
💲The tariff is uniform and does not depend on the number of employees and sent messages.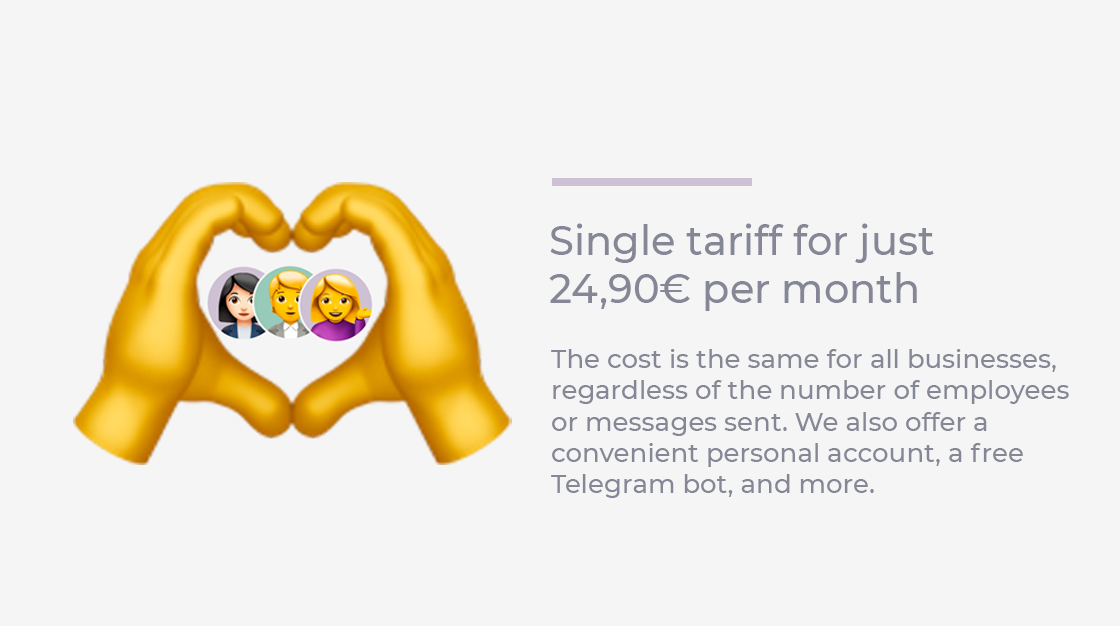 Connection
1. In Altegio, navigate to the 'Integrations' > 'Notifications' section and select the 'Integrilla' application or go to the link https://app.alteg.io/e/mp_186_intgrla/.
2. On the opened page, click the 'Connect' button.
3. On the opened page, click the Settings tab.
4. In the block with the title WhatsApp, click on the text on the red background that says "Scan QR".
5. After clicking on the text, a window with a QR code will open. There will also be a "Reset" button in it if you need to connect another phone.
6. Now you need to take the phone from which notifications will be sent with installed WhatsApp Business, open the WhatsApp app and click:
* (iPhone) or ⋮ (Android) → Linked devices → Link a device
7. The camera will open, which you need to point to the QR code that we opened in the previous step.
8. After successful scanning, the text "Connection established" will be displayed in the personal account in a few seconds, and a new device will appear in the application on the phone.
---
Possible errors
As a rule, the QR code is scanned without any problems, but there are cases when the WhatsApp application displays an error. Let's analyze the most common ones:
It is currently not possible to bind new devices
Make sure that the scanning is done directly from the personal account/QR code page, not from a screenshot, and try again.
Invalid QR code
Click the "Reset" button, wait a few minutes and scan again.
---
Additional tips
We recommend using the WhatsApp Business application on the phone for the correct operation of the integration.
Make sure that both devices are connected to the same Wi-Fi network.
If you are using a phone with a small screen, you can use a magnifying glass to help you scan the QR code.

If you are still having problems connecting, try restarting both devices.
Contacts:
📩 hello@integrilla.io
🌐 integrilla.io
🔧Support:
support.integrilla.io
support@integrilla.io